Getting to Know the Audi Q8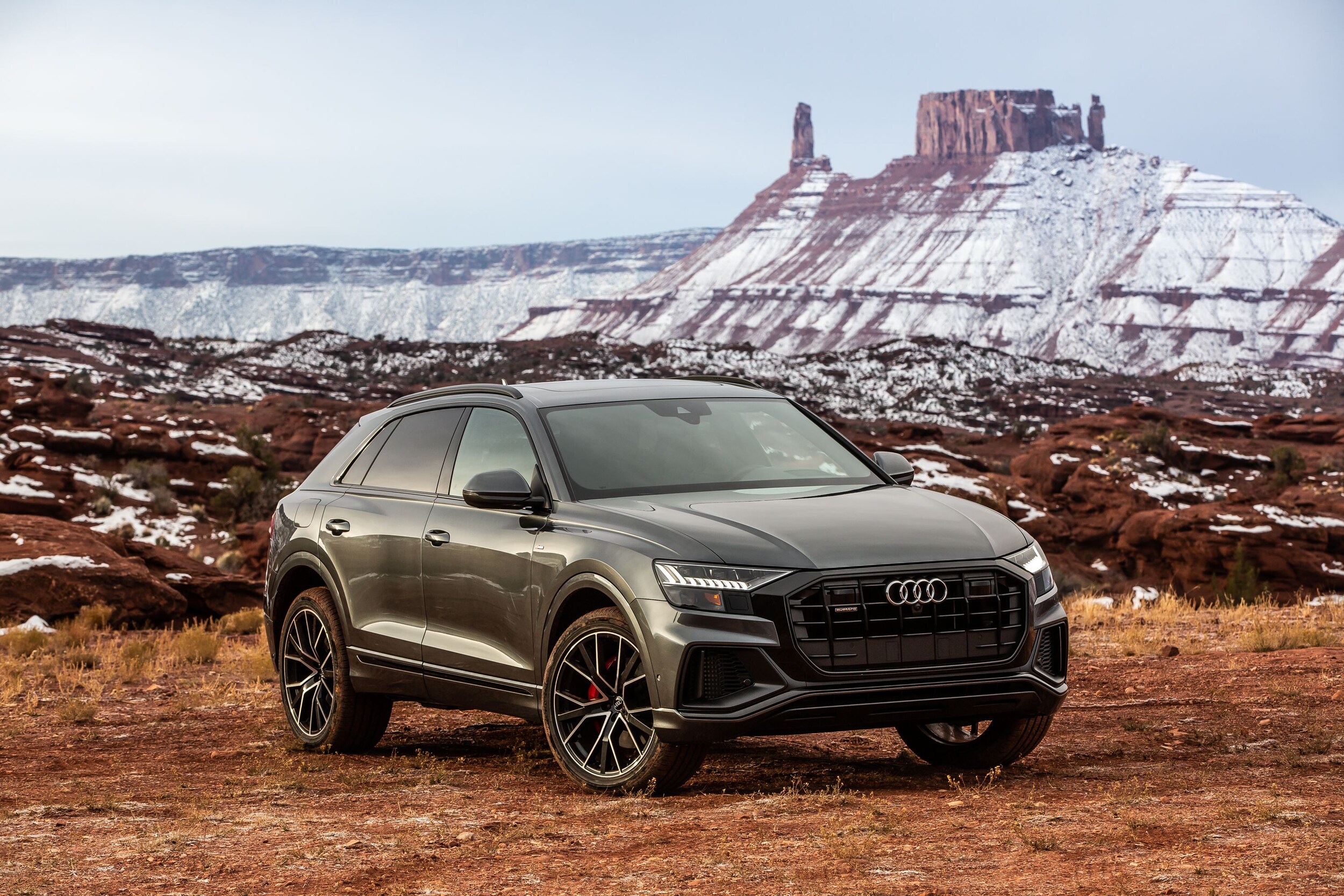 The 2019 Audi Q8 was a welcome addition to the luxury crossover SUV lineup, and continues to rise up as a new fan-favorite. Originally based on the Audi Q7, the Q8 is available in three different trim levels: Premium, Premium Plus, and Prestige. Audi fans will be glad to learn that even the Premium trim comes surprisingly well-equipped for a base model.
Seeing as how the Audi Q8 only made its first debut this year, we can expect minimal changes for incoming 2020 models.
To browse through our current inventory of the Audi Q8, click here.
Driving
All available models of the Audi Q8 are equipped with a turbocharged 3.0-liter V-6 engine, producing 335 horsepower and 369 lb-ft of torque. Owners can look forward to an eight-speed automatic transmission and, of course, Audi's legendary quattro all-wheel drive system. An adaptive suspension system comes standard, providing drivers and their passengers with an impressively relaxing ride even on flawed road conditions. Owners looking to increase their level of comfort even further have the option to upgrade to air suspension.
20-inch wheels come standard, helping to create that smooth ride familiar to all Audi owners. Reviews report that steering requires minimal effort and offers a pleasant linear feedback. Others added that the Q8 feels sporty and agile in tight spaces, as well as capable of tackling choppy terrain. Once again, Audi has graced the automotive market with a spacious vehicle that doesn't sacrifice the sportiness known to the brand's coupes and sedans. The Q8 makes turns swiftly and effortlessly, and certainly feels plenty full of pep.
Start-stop operation is aided by a 48-volt hybrid-assist system. The Q8 has proven to be slightly speedier than it's older brother, the supercharged Audi Q7 (the Q8 is also quicker than the BMW X6 xDrive35i).
The Audi Q8 is equipped with multiple drive modes, all of which maintain a smooth and quiet experience for everyone inside the cabin. Drivers can choose which mode best suits their needs and preferences, individually tuning the engine's responsiveness, how quickly shifts are executed, how firm the adaptive suspension becomes, and more. One test-driver commented that the Audi Q8's Dynamic sport mode is one of the few automotive sport modes they "could happily live with all day," as it "certainly quickens and tightens the vehicle's reflexes and demeanor, but not so much that it's uncomfortable to use for extended periods." In fact, more and more Audi Q8 drivers report it as, quite simply, fun to drive. The Q8 is also equipped with an individual setting, letting drivers tailor their drive experience exactly to their liking.
Technology
It's difficult to have a conversation about advances in automotive technology without mentioning Audi. The new Q8 is an effective reminder of how much the industry owes to Audi, as its jam-packed with technological features that make us wonder how we ever survived traveling without them. The more familiar you become with the vehicle, the more helpful features you discover, each even more delightful than the last.
When you first take your seat in the Audi Q8, you'll be greeted with two large touch-activated screens sitting center stage (The first being almost 9 inches, the second over 10!). As they power on, you're greeted with some of the highest resolution and most crisp, fastest, and most gorgeous graphics in the automotive market, making for a seriously great first impression. The touch-screen interfaces within the cabin give users haptic feedback and audible clicks when inputs are accepted, a thoughtful feature that drivers attest completely changes the game.
Beautiful presentation aside, the Audi Q8 has an impressive collection of standard and optional technology and infotainment features. Enjoy wireless smartphone charging, a "phone box" that uses the antenna to improve your phone's signal, Apple CarPlay, and much more. One of our favorites is Audi's twist on the surround-view camera system: A 360-degree, top-down, bird's-eye view that lets drivers touch the screen to drag the camera around a 3D avatar of their vehicle. Directly behind the steering wheel is yet another customizable screen, with a staggering size of 12.3 inches, to serve as a Virtual Cockpit system. This provides the driver with all of the Q8's vital information, such as speed, sensor readings, etc.
Perhaps best of all, these features are genuinely user-friendly. A refreshing change from many modern-day luxury vehicles full of complicated tech too difficult to understand or safely utilize while driving, a dashboard cluttered with unnecessary knobs, touch screens that don't accurately sense your touch and a long list of user complaints, the Q8 has mastered the perfect marriage of luxury technology with practicality. Drivers no longer need to be technophiles or spend time with their eyes off the road to manipulate controls.
Exterior & Interior
The Audi Q8 is turning heads for its clean-sheet design, and has already bewitched drivers everywhere with its sleek and dramatic shape. Whereas competitors often tend to erase the rear roof from a traditional SUV and slap a "crossover" name tag on it, Audi takes a far leap with a bold and original framework. The Q8 combines the best parts of a SUV and a trendy coupe, giving shoppers an easy compromise: Space and practicality with style and comfort. Large fenders and wheels partnered with what one reviewer called "maleficent-looking headlights" help create an aesthetic of beauty, sport, style and ferocity. (Speaking of ferocity, the Q8 has a towing capacity of up to 7,7000 pounds when properly equipped!)
The elimination of the third row gives even second-row passengers much more space to stretch out, letting even taller adults sit comfortably on long trips. In fact, the Audi Q8 keeps scoring above average for luxury vehicle comfort levels. Add the top-notch choices of material and finishes throughout the cabin, the hushed ride and a massive amount of cargo volume, and you've got yourself the ultimate road trip or commute vehicle.
The Q8 is also equipped with an ultra-effective climate control system and more standard and optional luxury features than we can count. Opt for ventilated front seats, heated steering wheel, and heated rear seats for maximum comfort.
Safety
The Audi Q8 is blazing through difficult safety and crash tests with flying colors, even earning the coveted Top Safety Pick rating. It has also managed to obtain an impressive five stars from the National Highway Traffic Safety Administration.
Advanced Driver Assistance features available for the Q8 include adaptive cruise control (which operates all the way down to a complete stop), lane-departure warning, lane-keeping assist, steering assist, blind-spot monitoring, front and rear parking sensors, automatic emergency braking, rear cross-traffic alert, rear-collision warning, automatic high-beam headlights, Matrix LED-capable headlights, and more still. 
Want to learn more?
If you're interested in learning more details about the Audi Q8 or taking a test drive, give us a call at 309-243-7000 or stop by our dealership. Here at Audi Peoria, we have a knowledgable, professional, and helpful team ready to answer your questions and guide you in finding the vehicle that checks off all your needs.
You can view our inventory of new Audi Q8 models right here.
NEXT UP: 9 Quick Tips to Prepare Your Vehicle This Winter
For blogs, news, original content and all things Audi, be sure to follow us on Facebook, Instagram and YouTube.
2322 Van Winkle Way
Peoria, Illinois 61615
309-243-7000